Staying Active To Raise Awareness
Kim Tank
In July of 2013, I was diagnosed by a kidney biopsy. I had gone to the doctor with just one symptom of swollen ankles. I have AL Amyloidosis and we believe the only place I have it is in my kidneys. I work with a local oncologist in Pleasant Hill, CA, and he consults with the Amyloid team at Stanford. In August of 2013, I began treatment with CyBorD. After two months, the Cytoxan was replaced with Revlimid because the response with Cytoxan was not as fast as they would have liked. My bone marrow biopsy in April of 2014 still showed a higher than normal level of plasma cells, so we began discussing other options.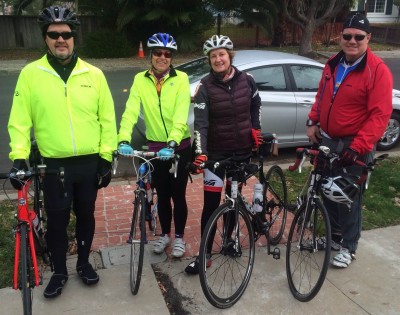 I am relatively healthy otherwise and very active. I also have good insurance coverage, so we decided it was a good time to go ahead with the SCT (stem cell transplant). By the time I was scheduled, my bone marrow biopsy was actually normal, but we went ahead with it to try to produce the deepest response possible. I had my SCT on August 19, 2014 at Stanford. I had a great experience there and was very well cared for. Although I did not feel well for a few weeks, I recovered quickly. By the time I returned home, I started right up with my activities, although gradually, of course. My latest lab work looks great. I am still spilling protein into my urine, but all of my other indicators look good. I am resuming my normal life, although I never really left it!
I hope to put some of my energy into education and awareness by raising money through athletic events. In fact, in January of 2015, exactly 150 days after my SCT, I celebrated my 55th birthday. My birthday present to myself was to gather friends and collect donations for the Amyloidosis Foundation. On Friday, my birthday, we ran 19.60 miles to represent the year that I was born. Over the course of three days, we ran and walked an additional 14 miles to round it up to 55K (34.1 miles). On Saturday, we rode our bikes for 55 miles. The day after that, we swam and ran in a swimming pool for an hour. I even had shirts made for the event! And next year, I plan to do an even larger fundraiser. I am considering an Ironman triathlon. I feel so blessed to be where I am and I believe that my health is strong now because I was able to receive an early diagnosis. It is my hope to do what I can, so others can receive an early diagnosis as well.
Update: August, 2019
Since my story in early 2015, I've continued in relatively good health. Just nine months after my SCT, I ran a marathon (26.2 miles) in 3 hours, 58 minutes, qualifying me for the 2016 Boston Marathon. Later in the year, I ran two more, one of which qualified me for the 2017 race as well. I did run both of those Boston's, in spite of noticing some decline in my running abilities during 2016. I attribute some of this to making a major life decision to move to the country, about two hours away. The move kept us busy and was in an area difficult to run on the roads. Still, I felt very good in general.
In 2017, my doctor at Stanford advised me to go back on treatment when my light chains began creeping up. I have now been on Daratumumab since June of 2017 and the plan is to keep me on it indefinitely. Carfilzamib was added later that year when my proteinuria, which has been a constant issue, began to increase. Every other week, I go in for infusions but I have almost no side effects and I continue to work and exercise as before. Recent lab tests show my proteinuria may finally be coming down closer to normal levels.
I am currently feeling very good and am planning on ramping up my running once again!