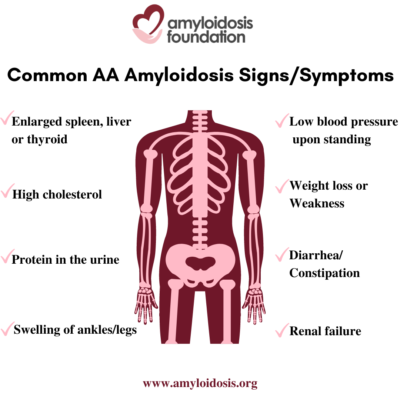 AA amyloidosis occurs as a reaction to another illness, such as a chronic inflammatory disease or a chronic infection. Infections and inflammation cause the liver to produce a protein called SAA (serum amyloid A protein) at high levels. This is a normal reaction.
When inflammation goes on for a very long period of time, a small portion of the SAA protein, called AA protein, will separate from SAA and deposit in tissues as AA amyloid. Normally after an inflammatory reaction, the whole SAA protein is broken down to its amino acid components and recycled, as happens with all proteins. It is not known why in some individuals a partial breakdown of SAA to AA occurs.
These individuals usually have severe and chronic inflammatory conditions lasting several years. They develop AA amyloid deposits in all tissues, but the most common organ damage occurs in the kidneys. Some patients experience complications with their liver, spleen, thyroid, digestive tract, or heart. Any chronic inflammation that elevates the SAA protein for a long time has the potential to lead to AA amyloidosis.
Inflammatory diseases that are more commonly known to lead to AA amyloidosis are in the following categories. Rheumatologic diseases include rheumatoid arthritis, juvenile arthritis, ankylosing spondylitis, and psoriatic arthritis. Gastrointestinal inflammatory diseases, including Crohn's disease and ulcerative colitis.
Chronic Infections, such as tuberculosis, bronchiectasis, osteomyelitis, or infections associated with cystic fibrosis, AIDS, and needle-using drug addiction that cause skin infections. Hematologic malignancies, including Hodgkin's disease, renal cell carcinoma, and Castleman's disease. Hereditary disorders that cause disruption of inflammatory genes, such as Familial Mediterranean Fever (FMF), TRAPS (tumour necrosis factor receptor-associated periodic syndrome), and others.