Making a Difference
Mackenzie Boedicker
In April of 2017, I was diagnosed at the age of 23 with AL amyloidosis.
I noticed a lump in the back of my throat that had been increasing in size. I saw an ENT who incorrectly attributed the lump to allergies. A second ENT did a biopsy of the lump and the results indicated that the tissue had characteristics of amyloid. I was referred to a hematologist who performed a bone marrow biopsy and confirmed the diagnosis. For a second opinion, I met with an amyloidosis specialist at the Mayo Clinic in Rochester, MN.
I spent a total of five weeks at Mayo undergoing treatment, which included an autologous stem cell transplant with high-dose chemotherapy. While these procedures are typically performed on an outpatient basis at Mayo, one of the weeks was spent inpatient due to severe Esophagitis.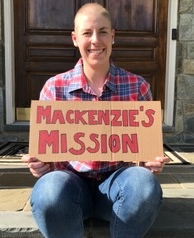 At my post-transplant (Day 18) exit appointment, my doctor informed me that I had achieved a complete response to therapy and that there was no evidence of amyloidosis anywhere in my body. These results were confirmed at my "Day 100" follow-up visit. I was officially disease free!
I am currently Day 100+ post-transplant and doing exceedingly well. I feel strong and full of energy. I currently live in Boston and keep busy by studying for the MCAT and preparing to apply to medical school. In addition, I work as a full-time research assistant at Harvard Medical School in the Brugge Lab investigating breast cancer.
Much lies ahead in my journey through life, both on the path to becoming a doctor, and the path to fighting amyloidosis. This disease has shaped my purpose in life. I hope you will join me in the fight by following Mackenzie's Mission on Facebook.