Amyloidosis "Rock Star"
Ralph Payne
Written by Debra Payne, Wife and Caregiver
Valentine's Day 2013, we received a call from my husband's nephrologist. A week earlier we had no idea what a nephrologist was. And doctors don't typically call with biopsy results the next day. Something wasn't right.
It began when our new family doctor ran a comprehensive series of tests on all his new patients. My husband turned out to have an extremely high protein count in his urine. We were referred to a nephrologist to discover why, not for a minute imagining anything seriously wrong with him.
The nephrologist was also at a loss to explain the dramatically climbing protein count and planned a kidney biopsy the day before Valentine's Day. Valentine's Day, we got the call. My husband had been diagnosed with an extremely rare blood disorder called amyloidosis, AL amyloidosis in particular. The doctor wanted to send samples to Mayo Clinic for verification and referred us for immediate treatment to a local oncologist at Rocky Mountain Cancer Center in Longmont, Colorado.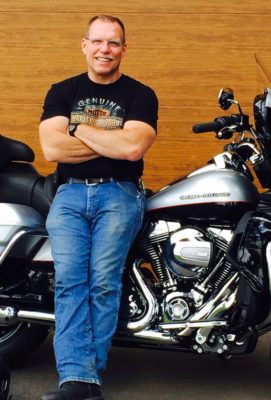 In shock, we tried to learn everything we could about amyloidosis. One of the first things we read was that patients had a 12 to 15-month survival rate. That was devastating. We learned as much as we could about the process in as simple terms as we could understand and explain to family and friends: the body spontaneously producing a folded protein that clogs the organs reducing their ability to function. The organ most impacted in my husband were his kidneys.
The oncologist advised us not to read anything on the internet relating to amyloidosis unless it was from Mayo Clinic or another reliable cancer site. He explained treatment: low dose chemotherapy to disrupt the production of the folded proteins and an autologous stem cell transplant at Presbyterian Saint Luke's in Denver, Colorado, to hopefully reset the body's protein producing systems. The entire treatment seemed unimaginably frightening to us. We could only focus on baby steps.
We went through 11 weeks of low dose chemo while my husband continued to work a full-time job. I found a job with medical insurance in case my husband became permanently disabled. He went through hospital pre-testing to make sure his heart would hold up under the high dose chemo; surgical insertion of a tunneled catheter for the injection of chemo, the removal and reinsertion of stem cells, and medications; going on short term disability for 2 doses of high dose chemo, a month-long hospital stay and, because of his amazing results, only another month of recuperation at home.
The scope of concerns was unending. We worried about insurance and paychecks and prescription costs. We worried about disability and qualifying for experimental studies. We worried about doctors and their success rates with this disease and survival of the treatment and side effects. We worried about bills, medical-caused bankruptcy, and charges for required tests not covered by insurance. We worried about jobs and taking time off and driving back and forth to hospitals while maintaining a household. And overall the most pressing concern: we worried about whether he was going to survive this illness and the treatment.
The blur of hospital tests, treatments, and frantic phone calls are as raw today as five years ago. But the doctors refer to my husband as a "rock star", saying he didn't read how this illness was supposed to go and just made his own recovery back to good health. His protein count went from uncountable at one point to well within normal range, kidney function returned to normal range, and no sign of amyloidosis today.