Aubrey's Journey
Written by Jaime, Wife and Caregiver
I am writing to share a little about the journey my husband and I have been on since his diagnosis in October 2013.
Aubrey was diagnosed with hATTR. We had prayed that this disease that claimed the lives of his grandmother, father, brother, aunties, uncles and cousins would somehow skip him, but that was not to be. It started with a severe taste aversion. Overnight, salt in his food gave an alkaline taste, sweet became bitter etc. He had also progressively developed a cough that seem to be triggered by consuming spicy foods (this had never affected him before), then any sort of food, and went on to having a cough for every time he starts to talk. As you can imagine, being a prolific corporate director in the field of Technology, with media presence here in New Zealand, this cough was becoming a big problem for him.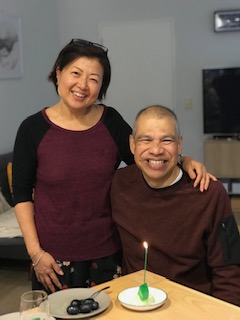 This inability to now enjoy eating (or talking) led to his losing weight and with the cough, his doctor/ general practitioner recommended that he see a gastroenterologist and interventional endoscopist. The endoscopist, Dr Ravinder Ogra, thankfully took a look at Aubrey's family history with the disease, and when doing a biopsy of his gastrointestinal system, dared to investigate lower down the tract to remove a larger portion for biopsy. He then tested with the Congo red dye and this is how diagnosis was made.
Still today, we don't know how this taste aversion came to be as I have tried to find out if this is part of the symptoms of having this disease, but there's not much evidence of this. We believe that having this problem actually may have led him to be tested earlier as without the symptoms, the progression of the disease would have been a lot worse before being caught. His taste buds have somewhat improved, not completely, but at least he can eat without gagging. The cough is less but still there.
His condition got progressively worse with the protein depositing in his gastrointestinal tract, nerve (polyneuropathy) and unfortunately his heart. He has been diagnosed with cardiac amyloidosis ("stiff heart syndrome") due to the amyloid deposits taking the place of normal heart muscle. It is the most typical type of restrictive cardiomyopathy.
On 9th Feb 2016, he underwent New Zealand's first ever domino liver transplant at Auckland hospital. Since then, his donor liver is doing excellent in his body despite the fact that the other organs are compromised, especially his heart and nerves, as they continue in their unrelenting deterioration. Long story short, we are resolute that we must make a difference with whatever time we have with each other and are in the process of starting a non-profit charity that will advocate for awareness about the disease to the general public here in NZ, and within our medical practitioner's network, while also championing the cause for other patients and their caregivers in this country.
With the breakthrough drugs currently in the overseas market (Tafamidis, Patisiran, Inotersen, etc.), none of which we have access to, we want to petition to the drug companies to take heed of our sufferings here in middle earth and provide a compassionate scheme so people like my husband will be able live long enough to walk our daughter down the wedding aisle one day.
I read a quote once that says, "Carve your name on hearts, not tombstones. A legacy is etched into the minds of others and the stories they share about you." So true. We want to share our story but not the sadness that Amyloidosis brings, not about the things this disease robs from us, we refuse to give our soul to it. Instead we want to create moments of triumphs, occasions to celebrate and give hope where there seems none.
So this is our story and we hope it will bring peace to someone reading.