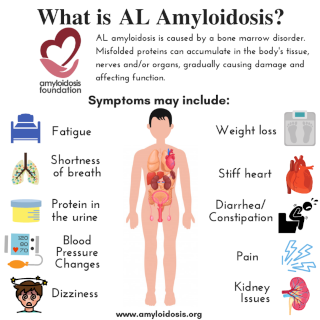 In the United States, AL amyloidosis is the most common type, with approximately 4,500 new cases diagnosed every year. It usually affects people from ages 50-80, although there are a few cases of people being diagnosed as early as their late 20s. About two-thirds of the patients are male.
AL amyloidosis is caused by a bone marrow disorder.  The bone marrow in the center of bones produces cells in the blood system, including "plasma cells."  These plasma cells are the part of the immune system that makes antibodies for fighting infections.  The term "immunoglobulin" refers to the class of proteins that function as antibodies. Immunoglobulins are composed of four protein chains: two light chains, either kappa or lambda light chains, and two heavy chains, of which there are several types.
These proteins are produced by the plasma cells in the bone marrow.  In AL patients, these plasma cells produce an abnormal antibody (immunoglobulin) protein. For AL amyloidosis, it is the "light chains" that become misfolded, and the abnormal, misfolded result is the forming of amyloid.  With AL amyloidosis, the "A" is for amyloid and the "L" is for light chain.
These misfolded amyloid proteins are deposited in and around tissues, nerves and organs. As the amyloid builds up in an organ, nerve or tissue, it gradually causes damage and affects their function. Each amyloidosis patient has a different pattern of amyloid deposition in their body. It often affects more than one organ.  AL amyloidosis does not affect the brain.